B&B Mery's House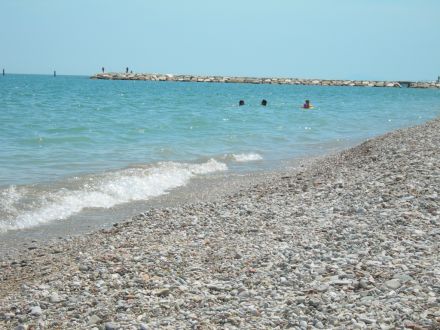 Rooms with private bath, TV, WiFi, heating and air conditioning. At 50 m from the sea and 200 meters from Lido di Fano, behind the bike path Fano-Pesaro, bus stop in front of the house.
Follow us
San Marino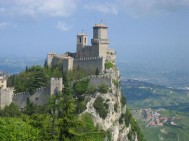 Between Romagna and Marche,
San Marino
is a special land to visit.
Considered the oldest republic in the world, welcomes its visitors with the words
"San Marino ancient land of freedom"
.
Famous throughout the world for its natural beauty and artistic, attracts millions of visitors who will find plenty to see and lots of hospitality.
The medieval atmosphere characterizes all his nine castles and its capital, the city of San Marino, where there are monuments, museums and many attractions, such as the three historic towers, the symbol of the Republic (also on its flag).
San Marino is a must-see for
"shopping addicted"
of all kinds of outlets, shopping centers, markets and beautiful shops scattered in the nine Castles you are spoiled for choice. This is partly a tax lever lighter, make purchases on Titan may be cheaper than in Italy. Among the "products" most sought after by those who come across the border: clothing, footwear, perfumes and cosmetics, electronics, musical instruments.
In the
historic center
of San Marino are many stores and shops with local produce and traditional San Marino. Hand-painted ceramics, art objects manufactured in iron, wood and precious materials, lace, embroidery and prints on canvas. But also tasty confectionery products, such as the Three Towers, the typical sweet of San Marino.
Since 1995 the Republic of San Marino has established the
Mark of Origin and Typicality
to protect, enhance and promote the artistic and traditional.
Events
Florea plants and rare essences
May 23 to 24
European Championship historic rally
June 12 to 14
Davis Cup tennis
July 13 to 18
Medieval Days
July 23 to 26
Vintage Market
August 9
San Marino Comics Festival
August 29 to 30
Parks
San Marino Adventures
-
www.sanmarinoadventures.sm
ShoppingBig&Chic – San Marino Factory Outlet
Via Strada dei Censiti, 1 – 47891 Rovereta - Tel. 0549 904014 -
www.smfactoryoutlet.com
Azzurro Shopping Center
Via M. Moretti, 23 – 47899 Serravalle - Tel. 0549 960172 -
www.centroazzurro.sm
Atlante Shopping Center
Via Tre Settembre, 17 – 47891 Dogana - Tel. 0549-909224 -
www.centroatlante.com
Luxury Shopping Center
Via Tre Settembre, 84 – 47891 Dogana - Tel. 0549 970805 -
www.luxuryshoppingcenter.sm
La Serenissima Spa
Via XXV Marzo, 67 – 47895 Domagnano - Tel. 0549 878 102 -
www.laserenissima.sm

Print the page